CASE STUDIES
Compass® Makes a Big Impact for Social Services Agencies
County and state social services agency case studies demonstrate how Northwoods' Compass® software improves social services document management and caseworker productivity.
Please fill in the form below to download this case study and learn how our human services software solutions and social services technology is making a difference for our clients, their caseworkers and the families they serve.
Allen County Speeds Application Processing and Reduces Paper with Human Services Software from Northwoods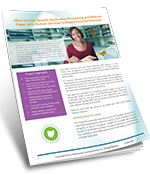 When social services caseworkers were faced with increasing caseloads and fewer resources, the Allen County Job and Family Services Agency in Lima, Ohio contacted Northwoods to automate its application processing tasks. A 64% productivity gain was achieved, but that was just the start. When Northwoods unearthed bottlenecks in other agency processes, Northwoods implemented its document management software and created additional efficiencies that the agency didn't anticipate.