CASE STUDIES
Compass® Makes a Big Impact for Social Services Agencies
County and state social services agency case studies demonstrate how Northwoods' Compass® software improves social services document management and caseworker productivity.
Please fill in the form below to download this case study and learn how our human services software solutions and social services technology is making a difference for our clients, their caseworkers and the families they serve.
Beaufort County DSS Reduces Turnover with Mobile Software for Social Services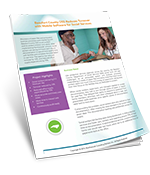 Mountains of paper files and antiquated business processes were interfering with Beaufort County Department of Social Services social workers' work to protect children and adults. After implementing Northwoods' software solution for protective services, social workers are saving 2-3 hours each day on documentation to spend more quality time with families, helping the agency reduce turnover by 13%, and reduced office supply expenditures by 75%.