CASE STUDIES
Compass® Makes a Big Impact for Social Services Agencies
County and state social services agency case studies demonstrate how Northwoods' Compass® software improves social services document management and caseworker productivity.
Please fill in the form below to download this case study and learn how our human services software solutions and social services technology is making a difference for our clients, their caseworkers and the families they serve.
Fairfield County Using Technology in Social Work to Boost Productivity and Worker Morale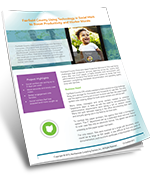 Fairfield County Child and Adult Protective Services in Lancaster, Ohio went from drowning in social services paperwork to creating a truly mobile social worker by implementing Northwoods' children's service software, Compass® Pilot and Compass® CoPilot. That move is saving up to two days per week per social worker, empowering social workers to create stronger relationships with families and achieve better outcomes.