CASE STUDIES
Compass® Makes a Big Impact for Social Services Agencies
County and state social services agency case studies demonstrate how Northwoods' Compass® software improves social services document management and caseworker productivity.
Please fill in the form below to download this case study and learn how our human services software solutions and social services technology is making a difference for our clients, their caseworkers and the families they serve.
Marion County Enhances Service Delivery and Cuts Costs with Northwoods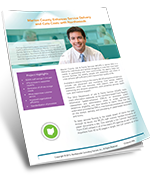 Facing unworkable paper-intensive social services processes and inefficient business and document management practices, Marion County Job & Family Services in Ohio turned to Northwoods for a solution. Northwoods delivered.
Thanks to Compass Pilot agency caseworkers feel more productive and able to respond to clients, and the agency has eliminated all off-site file storage.