CASE STUDIES
Compass® Makes a Big Impact for Social Services Agencies
County and state social services agency case studies demonstrate how Northwoods' Compass® software improves social services document management and caseworker productivity.
Please fill in the form below to download this case study and learn how our human services software solutions and social services technology is making a difference for our clients, their caseworkers and the families they serve.
Montgomery County Caseworkers Handle Increasing Caseloads with Northwoods Human Services Software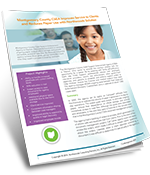 Montgomery County Child Support Enforcement Agency in Dayton, Ohio needed a document management solution built with social service agencies in mind. The agency had a goal to eliminate ongoing paper, reduce offsite storage, and provide caseworkers with immediate access to case files. Northwoods' Compass® Pilot helped the agency achieve those goals, giving caseworkers back time they need to process increasing caseloads.