CASE STUDIES
Compass® Makes a Big Impact for Social Services Agencies
County and state social services agency case studies demonstrate how Northwoods' Compass® software improves social services document management and caseworker productivity.
Please fill in the form below to download this case study and learn how our human services software solutions and social services technology is making a difference for our clients, their caseworkers and the families they serve.
Northwoods Helps Ohio Human Services Agencies Save Time and Money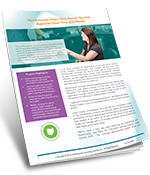 Tired of the burden of social services administrative tasks like copying and filing paper, child support workers in Ohio agencies began using Northwoods' human services document management software to gain two extra hours every week to respond to clients' questions and conduct more thorough client interviews. The agencies are also cutting wait times for clients with Compass Appointments®.