CASE STUDIES
Compass® Makes a Big Impact for Social Services Agencies
County and state social services agency case studies demonstrate how Northwoods' Compass® software improves social services document management and caseworker productivity.
Please fill in the form below to download this case study and learn how our human services software solutions and social services technology is making a difference for our clients, their caseworkers and the families they serve.
San Mateo County Looks to Northwoods to Increase Productivity and Improve Service Levels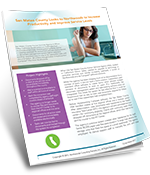 San Mateo County Human Services Agency in Silicon Valley faced numerous document management challenges from decentralized services, nonintegrated social services systems, and an increasing caseload. Its central mail unit was overburdened, its document management system had an extensive backlog, and there was no way to tie caseworker's tasks with documentation. All of that changed when it implemented Compass® Pilot from Northwoods.