CASE STUDIES
Compass® Makes a Big Impact for Social Services Agencies
County and state social services agency case studies demonstrate how Northwoods' Compass® software improves social services document management and caseworker productivity.
Please fill in the form below to download this case study and learn how our human services software solutions and social services technology is making a difference for our clients, their caseworkers and the families they serve.
Staff Turnover Cut in Half for Dane County Social Workers Using Mobile Application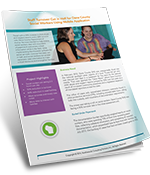 Faced with a 25% increase in child abuse and neglect reports and a 30% turnover rate, Dane County Department of Human Services (DHS) needed to help mobile social workers deal with mountains of paperwork and access critical information while in the field. Since implementing Northwoods' software for social services, turnover has been cut in half, and social workers can access necessary case information to make critical decisions and strengthen families.