CASE STUDIES
Compass® Makes a Big Impact for Social Services Agencies
County and state social services agency case studies demonstrate how Northwoods' Compass® software improves social services document management and caseworker productivity.
Please fill in the form below to download this case study and learn how our human services software solutions and social services technology is making a difference for our clients, their caseworkers and the families they serve.
Wood County Improves Service Levels and Meets Compliance Goals with Northwoods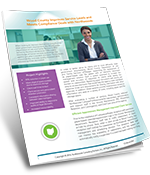 When looking to improve client service and efficiently meet government requirements, the Wood County Department of Job and Family Services in Ohio turned to Northwoods because of the team's knowledge of human services technology and document management for social services agencies. The agency got what it needed, and more. Compass® Pilot improved caseworker service levels, accountability, and data quality increased while processing times decreased.