CASE STUDIES
Our Solutions Makes a Big Impact for Social Services Agencies
Please fill in the form below to download this case study and learn how our human services software solutions and social services technology is making a difference for our customers, their caseworkers, and the families they serve.
Cabarrus County Provides Superior Service with Modernized Lobby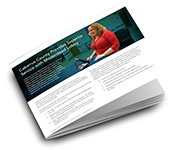 Cabarrus County Department of Human Services' (DHS) clients were frustrated by a confusing lobby and long waits, which had a ripple effect on the agency's efficiency. Cabarrus County DHS partnered with Northwoods to redesign the lobby, upgrade appointment management software for caseworkers, and modernize business processes to reduce client and caseworker frustration and process applications for services much faster.