CASE STUDIES
Our Solutions Makes a Big Impact for Social Services Agencies
Please fill in the form below to download this case study and learn how our human services software solutions and social services technology is making a difference for our customers, their caseworkers, and the families they serve.
Chemung County Caseworkers Shift Time from Paperwork to People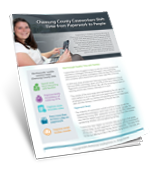 Caseworkers in Children and Family Services at Chemung County Department of Social Services (DSS) in New York were spending only 21% of their time in the field and the rest on documentation.
To improve family engagement and child safety while also meeting documentation requirements, the agency implemented Northwoods' mobile document management software. Caseworkers are completing documentation 91% faster, allowing them to spend more time interacting with families.