CASE STUDIES
Our Solutions Makes a Big Impact for Social Services Agencies
Please fill in the form below to download this case study and learn how our human services software solutions and social services technology is making a difference for our customers, their caseworkers, and the families they serve.
Mobile App Helps Clark County Social Workers Improve Family Engagement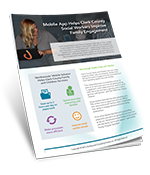 Clark County Family and Children Services in Springfield, Ohio, needed a way to help child welfare social workers improve family engagement, but mountains of documentation and inefficient paper-based processes stood in the way. Since implementing Northwoods' mobile document management for social services, social workers are saving up to two hours a day on paperwork and spending more face-to-face time with families.