CASE STUDIES
Our Solutions Makes a Big Impact for Social Services Agencies
Please fill in the form below to download this case study and learn how our human services software solutions and social services technology is making a difference for our customers, their caseworkers, and the families they serve.
Social Services Agencies Dramatically Impact Social Worker Retention with Mobile App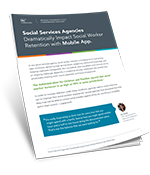 Successfully retaining skilled social workers can be an ongoing challenge, especially in protective services, where each day workers face emotionally draining work, heavy caseloads, and hours of paperwork.
View Northwoods' case study and video to learn how we help agencies minimize the burden of paperwork, mitigate stress, and ultimately, break the cycle of social worker burnout.