HOW DO SOCIAL WORKER BURNOUT AND TURNOVER IMPACT THE COMMUNITY?
Burnout, and the turnover of staff that results from it, doesn't just impact social workers and case managers. It creates ripple effects across the entire agency and the communities they serve.
Here's one example of this cycle of negative outcomes: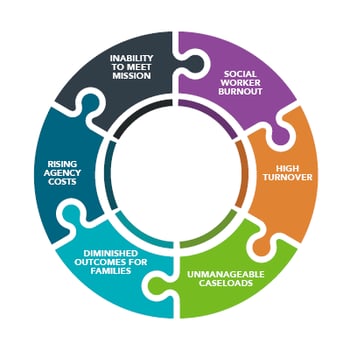 Social worker burnout: The helpers are tired and need more support. Social workers are mentally, emotionally, and physically drained.
High turnover: Workers don't have the resources and community support to do the job they signed up to do and move families forward, so they leave.
Unmanageable caseloads: Workers who stay lack the time, tools, and information they need to collaborate or manage complex cases, which results in the agency staying involved longer.
Diminished outcomes for families: Families don't receive the services and support they need. Case continuity is disrupted, which lengthens the path to permanency.
Rising agency costs: Agency costs relating to things like overtime, hiring, and training will rise, as will the costs of supporting kids in care as their length of stay increases.
Inability to meet your mission: Mounting pressures and time spent trying to stay afloat negate your agency's mission and ability to quickly deliver high quality, holistic services.
Here's another way to break down the negative impacts of burnout and turnover. Each column on its own is troubling but seeing them together paints a more complete picture of why the cycle must be broken:
IMPACT ON WORKERS

IMPACT ON CLIENTS

IMPACT ON THE AGENCY

IMPACT ON THE PROFESSION

Caseloads go up for workers who stay, causing even more stress and strain
Employee morale declines
Work-life balance becomes nearly impossible
Supervisors have to redirect their time to fill in and put out fires instead of coaching and mentoring workers

Families don't receive the level of service they need (or it takes longer to get services in place)
Cases drag out and kids stay in the system longer
Clients are forced to re-live trauma when repeating their story to multiple workers
Families are less invested in their own growth and outcomes

Increasing legal and financial risk if workers struggle to meet requirements
Increasing costs to support kids in care for longer
Costly and hard to advance practice models when constantly training new workers
Failure to deliver quality services creates lack of trust and support from the community

Fewer social workers are entering or staying in the field
Social work viewed as a stepping stone instead of a long-term career path
Social workers aren't considered a key professional by other stakeholders because there's always someone new

Casey Family Programs
Be aware of the factors that are predictive of high turnover and implement strategies to mitigate those factors.

Quality Improvement Center for Workforce Development (QIC-WD)
Research on the root causes of turnover and opportunities for agencies to better measure and address workforce challenges.

The Ohio State University College of Social Work and Public Children Services Association of Ohio
Recommendations to help agencies minimize turnover and improve workforce recruitment and retention.