CASE STUDIES
Our Solutions Makes a Big Impact for Social Services Agencies
Please fill in the form below to download this case study and learn how our human services software solutions and social services technology is making a difference for our customers, their caseworkers, and the families they serve.
Spending More Quality Time with Families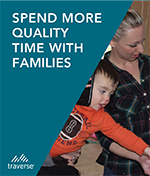 A Case Study: Houston County Department of Human Services
Since implementing Traverse®—a content collection and case discovery software solution—social workers in the Child/Family and Adult units spend more quality face-to-face time with families and connect them to services faster. They have a holistic view of critical case information to focus on safety and outcomes, not just paperwork.